Black Bear Hunting
Est. since 1972 is a good endorsement that we know what we're doing when it comes to bear hunting by now. Over previous years we shot so many nuisance bear that offering bear hunts was the best solution to not wasting the animal.
About Our Black Bear Hunts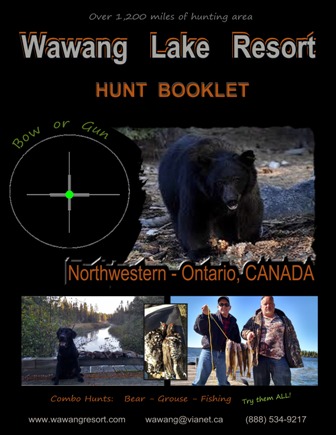 We invite you to join us to experience a true Canadian black bear hunt in Northwestern Ontario. The black bears in our area of Northwestern Ontario are abundant and our success rate speaks for itself. We operate a first class hunt and you can be assured every effort is taken to give you the hunt of a lifetime. We take an average of 14 hunters annually in the fall so BOOK now to ensure your Ontario black bear hunt and you will not be disappointed!
We offer semi guided yet highly successful drive in black bear hunts Our bear management area covers over 1,200 square miles of prime bear habitat. The size of our area itself increases your success along with the numbers and quality of animals available. The method of hunting is sitting over pre-baited sites and it's mandatory to bring with you a safe, solid and secure tree stand. We recommend ladder stands for the most comfort keeping in mind the long days you might spend on the stand, but, whatever you bring keep in mind if you want to bring along a self-climber that we have very loose bark on our trees and that they hold many limbs. Screw in pegs are legal in Ontario. Please EMAIL us if you have any questions.
The bait sites are accessed by old logging roads and are easy to access. We start the pre baiting a few weeks before the hunt starts to ensure your success. This, along with limiting the number of black bear hunts every year, and the high number of bears in our area, our hunters typically enjoy a 100% shot opportunity and success rates of 90-100% on our bear hunts overall.
The black bears in our area average 200 - 350 pounds, with some pushing almost 500 pounds. If you are looking for a high success Ontario bear hunt, this is it. We do our best to provide that Canadian black bear hunting experience that you are looking for and cater to:
bow hunters

primitive weapons hunters

gun hunters
Our bear hunt is an important part of our business and we take it very serious with time and dedication into the hunt that you look for and expect from an outfitter. Why take any chances on your hunt and hard earned money, we will give you the best bear hunt available. This is our specialty and you can be assured you will have as successful hunt as possible.
Our hunts begin the first Saturday on or just after August 15th and continues until the end of the 2nd week of September. Since we have consistently managed our bear population for several years we determine the number of hunters we will take according to the bear population we observe the previous year. Therefore we do not take reservations for more than two years in advance. Check our References
What We Need to Know
We will need to know what type of weapon each member in the hunt party will be hunting with and whether they will be hunting from tree stand or would prefer a ground stand. Providing us with the name, address and phone number of each hunter in the hunt party either at the time of booking with us, or, when sending the deposits, will accelerate the time it takes for us to fill out forms prior to your arrival and get you out to the bait stands sooner.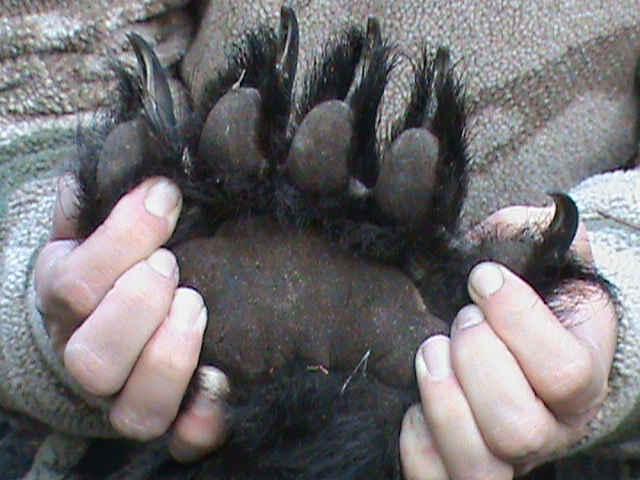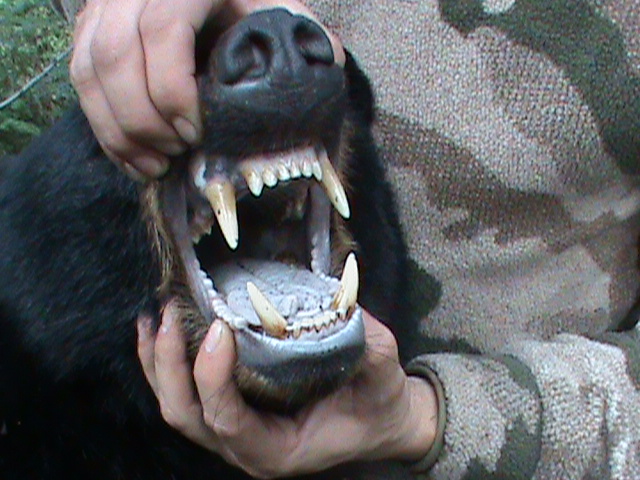 Days to Hunt
Seven (7 days) - Arrive Saturday and depart the following Saturday
Transportation Requirements
Since most of our baits are very remote groups should anticipate driving their members to and from the sites. Most of our baits are road access and we provide private areas for each hunting group so that dropping members off and picking them up will be systematic and easy. Also, you can anticipate that no one else will be hunting in your area during the week of your hunt. Subsequently, what we provide for you is an area exclusively for your hunt group.
What is Included in our Bear Hunts
- Modern Housekeeping Cottage for 7 nights
NOTE: The guide will take you out on the 1st day upon arrival prior to 1:00 pm
NOTE: The guide will take you out on Sunday if arrival is after 1:00 pm
*Please allow preparation time for setting up showering & de-scenting
- Pre-baited Sites
- All baiting supplies during your stay
- Freezer Service
- Orientation trip to bait site
- Experienced guide's knowledge and advise - USE IT!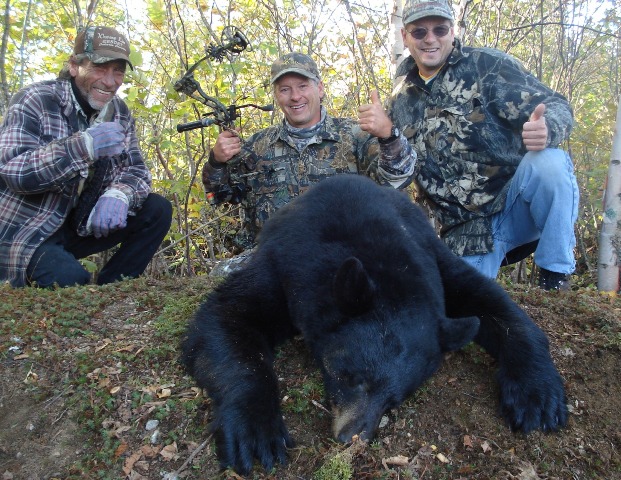 Other Costs

Hunting license- $250.00 Canadian Funds (approximately)
Export Permit - $35.00 Canadian Funds

It is MANDATORY to provide a current or prior hunting license FROM YOUR HOME STATE, or a hunter safety certificate, as qualification to obtain a hunting license in Ontario.

They issuer will not issue you one without it.

Export Permit - $35.00 Canadian Funds (available at designated locations in the area)
** Please note: License fees and season dates are subject to change by the
Ministry of Natural Resources at any time.

Tracking Services $35.00/hour – depends on situation

Gratuities greatly appreciated.

Blaze orange hat & vest (required by law to be worn to and from the bait site)
Fishing gear if you plan to take advantage of this during your stay.
POSITIVE ATTITUDE!
Canadian Firearms Regulations
All Firearms (does NOT include bows) being brought into Canada must be registered at the Canadian Customs at the time of entry into Canada. A one-year permit costs $50.00 Canadian, or there is a long term permit as well. If you would like further information, you can visit the Canadian Firearms Website through the link on our website or call toll free, 1-800-731-4000.

Canadian Customs
You should be aware of special customs and immigration issues whenever traveling to another country. For people with prior legal issues (including DWI's) you need to find out what restrictions may be placed on your travel. Visit the Border Crossing Link and/or the Canada Citizenship & Immigration.
DEPOSIT REQUIREMENTS
A $500.00 non-refundable deposit is required at the time of reservation to guarantee a hunt. Balance to be paid in full by May 1st the year of your hunt. Hunting deposits and installments are non-refundable. Consideration may be given to date transfers if vacancy can be filled.

There are a limited number of spaces available for our hunts. Often there are more guests interested in hunting than there are available spaces, and hunts are often booked a year or more in advance. It is extremely difficult to fill spaces that become available due to cancellation. For these reasons we ask that our guests do not book hunts lightly
For further information, or, to book your next bear hunt please contact us at: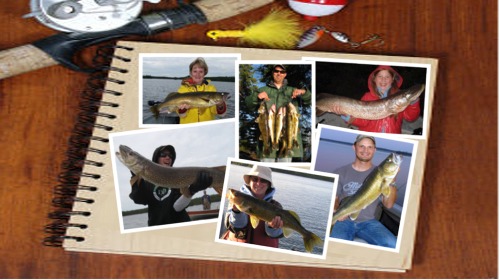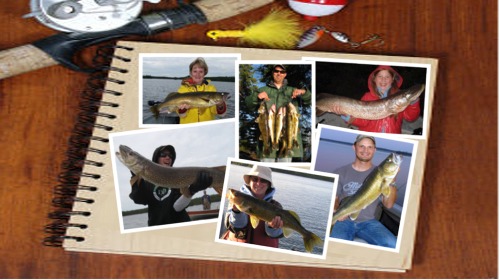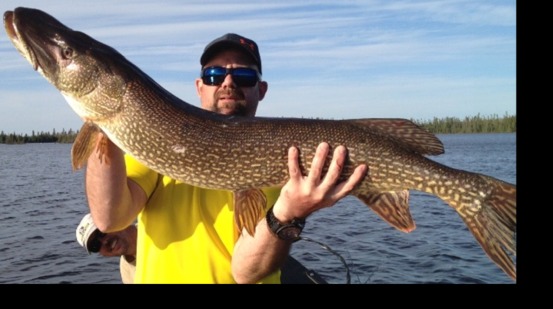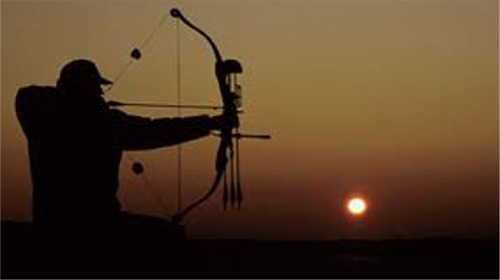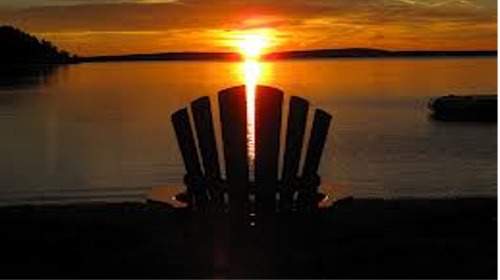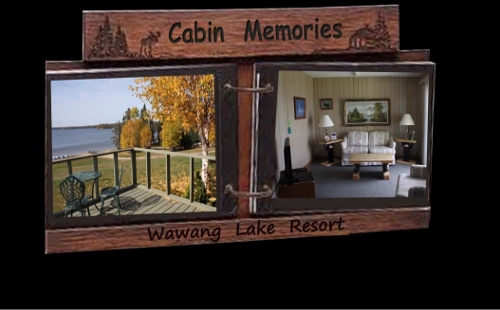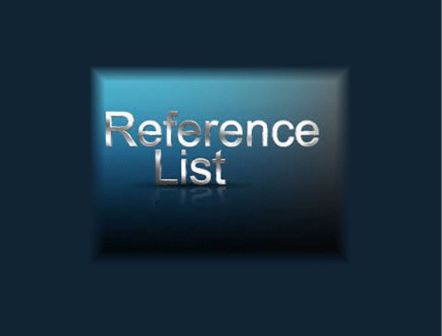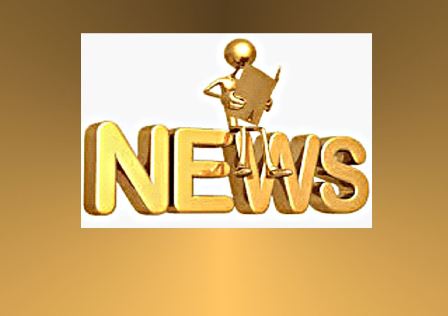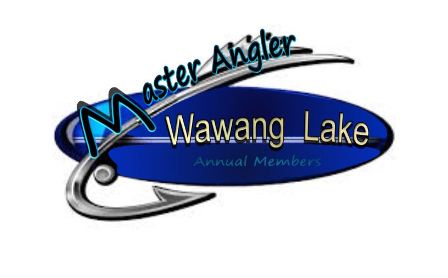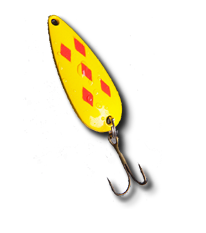 Only Resort On The Lake