About Us.....
Two young kids moved into the Canadian wilderness of NW Ontario and with them took a dream.......it became Wawang Lake Resort.
About Us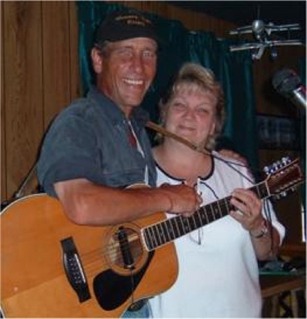 About Terry & Tami Kaliska

In 1969 two young kids moved into the northern Ontario wilderness and with them took a dream ... & today that dream is known as Wawang lake Resort.
.......In the Beginning:
I was born in Winnipeg, Manitoba and grew up most of my childhood and young adult life in Toronto, Ontario. A city girl for sure but everything for me changed when I met Terry. I was used to the bright city lights and all the modern conveniences that any large city has to offer. I went from flipping a switch to turn on a light to lighting a gas mantel with matches for propane lights. These types of lights are great in the fall, winter and spring, but when summer came these lights would radiate heat beyond what was needed on a 80F day. Instead of sweltering in the intense heat it was simply more comfortable to just rise and go to bed with the natural light. I also went from flush toilets to an outhouse, washing machines to hand scrubbing clothes, clothes dryer to hanging out on a line. Refrigerators and freezers to - NOT. All the simple amenities I had grown up with were gone and I lived without these for a good eight years. I can't express enough how I still enjoy what so many people take for granted today.

Terry was born in Emo, Ontario and grew up in small town called Pinewood part of the Rainy River District. I would have to say that he's the most capable person I know, can work with anything AND can make anything work. He came from the wilderness, a "do the best with what you got" kind of person. Many of his skills such as trapping, hunting and fishing he had learned while growing up and of course he perfected these skills at Wawang over the years. Never a stranger to the bush and can find his way out of even the most dense timber. Give him a compass, drop him off in the middle of nowhere and soon he'll be walking through the door right behind you. He just makes it look too easy. Me, I'd get lost all too soon and start yelling for help! So, I learned right away that I never had to worry about Terry. No other person that I knew (and still to this day) can feel more at home in the wilderness. He will always find a way to get home - one way or the other. A human GPS.

The very fact that Terry and I had very different upbringings gave us the significant ingredients that could create a place that would be enjoyable for all types of people with different interests. Terry's ingrained rugged ways, and, my understanding the need for modern conveniences made the perfect blend in this wilderness we had come to love and wanted to share with others.

Today, I chuckle when I think about how our friends and family must have thought we had gone completely out of our minds. To literally establish a business in the middle of nowhere was almost unheard of and to be quite frank if I saw anyone attempting this today I would feel the same. However, we were in God's Country as many have called it, and we wanted to share this wonderful place with others. I just hoped that God would look in on us from time to time to help us out, and as it turned out he always came through for us!


.......Pure Determination:
We actually carved our resort out of the bush. Blood, sweat, tears, frustration and absolutely no money. Trees felled, land cleared and back then it was all done by hand. I can't even begin to count the logs, the trees and limbs we had to pile, and, the piles of brush were as big as a house.

After that is was a matter of what do we build first. Like I said we had very little money, and, financial institutions didn't want to back our crazy idea. So instead, Terry went to work for the local logging company. He worked 14 hour days, while I would be clearing more land, or, prepare one thing or another for when he got back home. Day by day we worked towards our dream. I remember several years later while working at a sports show a gentleman approached me and said he stopped in at our place one day. "I knew you guys would do it", he said excitedly. He told his friend that was standing beside him that he had stopped by our place one day many years ago. I was peeling logs and Terry was felling and hauling trees. He said to his traveling companion: "See those two there, they're going to make it. I'm glad we didn't disappoint him and it was nice knowing we had that kind of encouragement behind us all the while.

Failure wasn't in our vocabulary. Sitting back procrastinating wasn't either. It was important for us to see to an accomplishment each year. Productivity is everything. Sometimes it was as small as an outhouse or picnic table and other times it would be a large building but we were determined and kept working and taking small steps towards our dream. Being idle meant something wasn't getting done so that wasn't an option either. A good friend of ours once told us that what he liked the most about us was our 'vision' and that we never stopped moving towards that light at the end of the tunnel - our dream. Looking back - it was merely a lot of small goals that eventually grew to a resort. It didn't hurt to have a little blind faith either and that friends & someone up there was looking out for us too!

Between working for the logging company and hours working towards our dream Terry managed to get his pilots license during this time too. Ground school came at a very busy time in our our lives. Since Terry had to drive approximately two hours to work (one way) and also the same back home I decided to help by reading all his course material on cassette tapes. Day by day and week by week Terry would listen to those tapes and eventually he completed his ground school and passed with flying colors. From then it was a little more difficult to gain the hours needed to finish his pilots license because of our distance from the flight school in Thunder Bay, Ontario, but like everything else we did this too would eventually become another accomplishment.

So what did we do for fun? In addition to the fishing and hunting Terry played guitar since he was 12 years old and sang along with his family while growing up. He came from a musical family and it showed in his playing - but I didn't come from a musical family and so confidence was a little longer coming. Have to thank Terry's dad (Lad) for that. Every time Terry and him would play and sing Lad would encourage me to pick up a guitar and play along. Lad gave me so much encouragement that after a few years I decided to learn to play the guitar. I always liked the song "Amanda" by Waylon Jennings and thought if I could only learn to play that song I would never ask for anything else, well, I was wrong........after the first song I was hungry to learn more. It gets you like a disease, a good disease though. So for years both Terry and I would entertain ourselves, family, friends and eventually our guests. Now that's fun - real fun- pure fun!


.......The Growing Years:
We first started a little bait shop store with the idea that it would fund our venture and soon found that many fishermen came from all around to purchase our commodities: live bait, tackle and ice. There were times when we would run out of bait and I would tell people to just let me know were they would be camping and we would bring the bait to them. We became quite popular delivering bait in the middle of the wilderness and many of those customers still visit us today.

The next project was the campground and we developed 30 sites in 1985. However this proved to be very challenging. Trees in a forest rely on each other for support, and when strong winds began blowing many of the trees started falling - actually a lot of trees fell. For years each spring we'd be picking up downed trees and piled brush and firewood piles. It was a little set back but eventually the trees that remained rooted themselves firmly until we had very little cleanup when spring eventually came around.

The next building that was a must was a shower house. People came from all over to get a hot shower. This was pure luxury in the wilderness. It was the stepping stone that encouraged more woman to visit this wonderful area. Because we're remote we have so many people that ask if we have indoor plumbing. My answer is: "Absolutely - we're female friendly!" Meaning: hot and cold running water and flush toilets. People would laugh at that saying....

As time went on we finally decided the store was just too small and began working on the lodge. The lodge consists of: a store; dining room; kitchen; office; bait room and various other storage rooms. It's 106' long and 24' wide and after a few outbuildings were erected such as fish cleaning station, shower house, outhouses, ice-house, generator building and various other storage buildings, then came the cabins and dock. Roofs, windows, electrical and plumbing; it was all done by us. I've seen Terry scratch his head a few times wondering how to improvise while fixing something. He always made it work though.....somehow. A Jack-of-all-trades that's what Terry is and if you ever watched that old TV show McGyver - well that's Terry.

We dug water lines, power lines, and propane line trenches. We made picnic tables and outhouses and of course stained and painted everything. I dug the well house and as also "witched for water" and Terry tells people: "I knew I was living with a witch!". As our clientele grew so did our friendships with guests that helped make Wawang Lake Resort what she is today ..... and our dream a reality. So, now we both look back on the years and years of hard work and realize nothing comes easy. Our challenges have been met and difficult times were overcome. We are here today and blessed with many guests, friends and family that visit us annually, and, we're reminded of just how fortunate we really are when each year they come back to visit!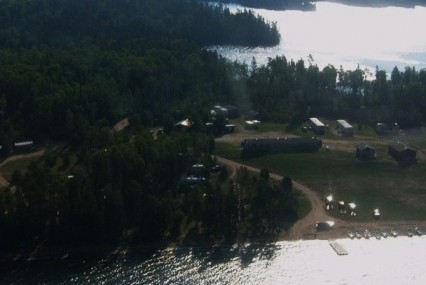 So come and visit us at Wawang Lake Resort and become a part of our legacy!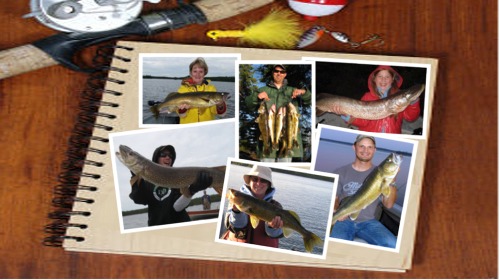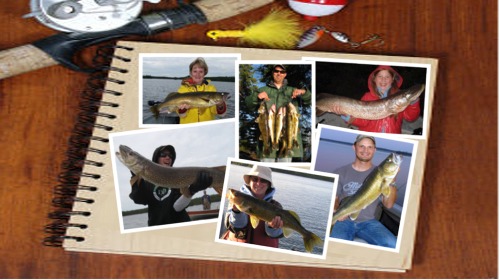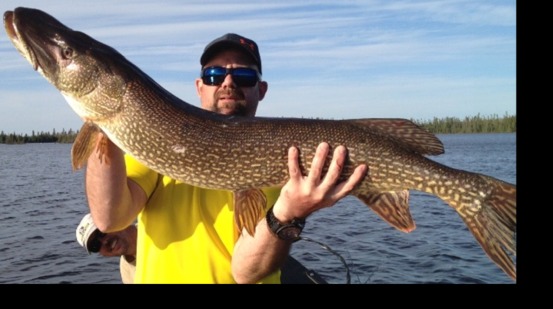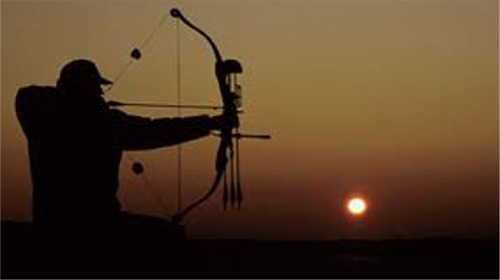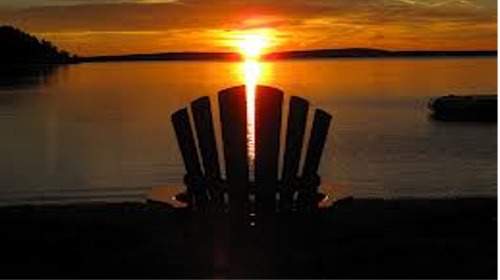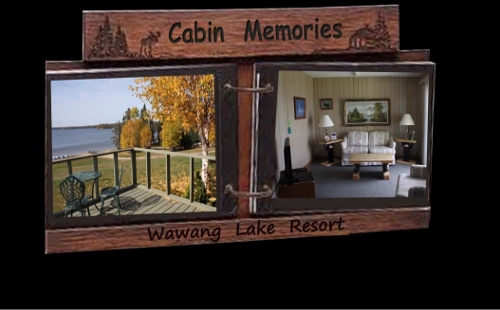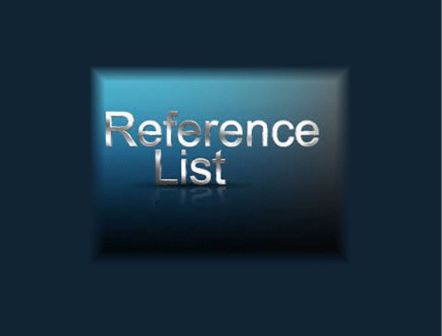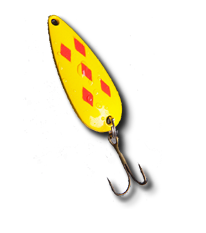 Only Resort On The Lake